Welcome to Hardings Transport| haulage| logistics| box vans| curtain siders| skeletals| I.S.O containers| flats| low loaders| Leicester
Welcome to Hardings Transport
Hardings has a proud and enviable record for reliability and integrity that has been earned over 34 years in the transport business. Our success is based on three basic business principles;
We Listen
We Adapt
We Progress
With our main site in Bardon Coalville being close to the motorway network, it helps us to provide the efficient and cost effective service that our clients expect. In fact, 75% of mainland UK's population is within a 2 hour drive of this location. Our second site, based in Thurmaston Leicester, is ideally situated to provide a fast and responsive service to our customers in Leicester, through our pallet network operation.
Our extensive Bardon site houses our head office, traffic and customer service departments, plus 55,000 sq. ft. of warehouse space and 20,000 sq. ft. of canopy space. We offer racked and non-racked warehouse solutions, which will be tailored to your requirements. We also operate from a 4,000 sq. ft. warehouse in Thurmaston, Leicester, which offers a unique central point for collections and deliveries for our Leicester-based customers.
We operate across dock transit warehouse and our in-house vehicle maintenance facility gives us increased control and flexibility. Our selection of counterbalance, reach and clamp forklifts allow us to respond to many warehousing requests.
We own and operate a fleet of over 30 vehicles with a combined carrying capacity 800,000 kgs. With vehicles ranging from Sprinter vans (1,200kgs payload) through to 44 tonne artics we have the scope and flexibility to cope with most transport requirements quickly and efficiently. Our in-house maintenance department ensure that our vehicles are always ready and available to work on the roads, reacting swiftly to issues that may occur.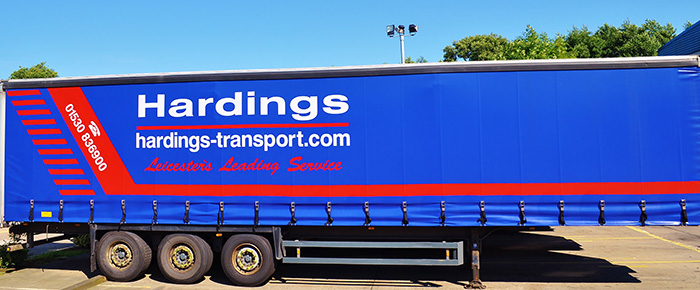 This smart and modern vehicle fleet is easily recognisable by their distinctive livery. All vehicles have comprehensive insurance and our goods in transit policy is tailored to suit individual client needs and requirements. We also hold a controlled waste licence.
All our drivers are cleared by the Criminal Records Bureau (CRB) and Baseline Personnel security Standard (BPSS) formally BC.
Three Reasons to choose Hardings
All Hardings' clients receive a bespoke service package that suits their individual circumstances and requirements
You can trust Hardings to deliver on spec, on time, every time
We are part of one of the best pallet distributioin services in the UK

SPECIALISTS IN ROAD TRANSPORT
We deliver the fastest, most affordable and most efficient transport